Picture Basics
The basic idea with pictures is simple:
You put a turtle drawing inside a picture.
Now you can do many things with this picture drawing:

You can draw it (of course).
You can align it with other pictures.
You can translate, scale, or rotate it.
You can apply effects to it.
You can change its transparency.
You can animate it.
You can detect collisions with other pictures.
Here, we are only interested in the drawing, alignment, and effect-application apects. Below is some sample code showing this in action:
// clear the canvas and make the trurtle invisible




cleari

()




setBackground

(

darkGray

)





// make the first picture and give it the name pic1




val

 

pic1

 

=

 

Picture

 

{


    

setPenColor

(

cm

.

coral

)


    

setPenThickness

(

16

)


    

setFillColor

(

cm

.

cornSilk

)


    

repeat

(

6

)

 

{


        

forward

(

200

)


        

right

(

60

)


    

}




}





// make the second picture and give it the name pic2




val

 

pic2

 

=

 

Picture

 

{


    

setPenColor

(

cm

.

brown

)


    

setPenThickness

(

14

)


    

right

(

360

,

 

100

)




}





// make a text picture and give it the name pic3




val

 

pic3

 

=

 

Picture

 

{


    

setPenFont

(

Font

(

"Monospaced"

,

 

40

,

 

BoldFont

))


    

setPenColor

(

cm

.

gold

)


    

write

(

"Picture Power!"

)




}





// stack pic1 and pic2 on top of each other and center them




val

 

pic12

 

=

 

picStackCentered

(

pic1

,

 

pic2

)





// put pic3, a gap, and the stacked picture in a vertical centered colum




val

 

pic123

 

=

 

picColCentered

(

pic3

,

 

Picture

.

vgap

(

30

),

 

pic12

)





// make a background




val

 

bg

 

=

 

Picture

 

{


    

setPenColor

(

cm

.

gold

)


    

setPenThickness

(

10

)


    

setFillColor

(

black

)


    

repeat

(

4

)

 

{


        

forward

(

560

)


        

right

(

90

)


    

}




}





// put the background behind what we want to draw




val

 

drawing

 

=

 

picStackCentered

(

bg

,

 

pic123

)





// draw the final pic




drawCentered

(

drawing

)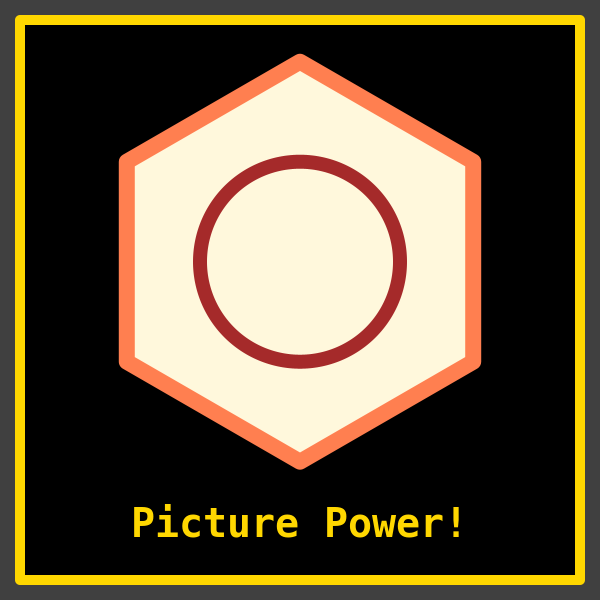 Adding some lighting
Now lets add an effect of a distant light shining on our pic - by removing the last line of our code above and adding the following lines:
// Apply a lighting effect




val

 

lightFilter

 

=

 

new

 

com

.

jhlabs

.

image

.

LightFilter




lightFilter

.

getLights

.

clear

()




val

 

light

 

=

 

new

 

lightFilter

.

DistantLight

()




light

.

setAzimuth

(

0.

toRadians

)




light

.

setElevation

(

5.

toRadians

)




lightFilter

.

addLight

(

light

)





val

 

drawingLit

 

=

 

effect

(

lightFilter

)

 

->

 

drawing





// draw the final pic




drawCentered

(

drawingLit

)